Řáholec Cup 2017 › Results › Day 8 › 11.03.2017
Training Day 1 Day 2 Day 3 Day 4 Day 5 Day 6 Day 7 Day 8 Overall Results
Racing Task | Final Results | Maximum Points: 566 | Day Factor = 1.0000
| | | | | | | | | | | |
| --- | --- | --- | --- | --- | --- | --- | --- | --- | --- | --- |
| # | | PILOT | CN | RN | PLANE | DISTANCE | TIME | SPEED | PEN | POINTS |
| 1 | | Jon Holland | 123 | G-RUSH | PW-5 | 169.83 km | 01:54:57 | 88.6 km/h | 0 | 566 |
| 2 | | Radek Mica | RUM | OK-5417 | PW-5 | 169.83 km | 01:55:53 | 87.9 km/h | 0 | 559 |
| 3 | | T Broty | TB | OK-0516 | PW-5 | 169.83 km | 01:57:09 | 87 km/h | 0 | 549 |
| 4 | | Hans Nyc | JN | OK-6200 | PW-5 | 169.83 km | 01:58:19 | 86.1 km/h | 0 | 540 |
| 5 | | Jiri Adam | ADX | OK-0024 | PW-5 | 169.83 km | 02:02:11 | 83.4 km/h | 0 | 512 |
| 6 | | Eman Sadik | EMA | OK-1940 | PW-5 | 169.83 km | 02:02:36 | 83.1 km/h | 0 | 509 |
| 7 | | Milos Koch | MK | OK-1823 | PW-5 | 169.83 km | 02:03:25 | 82.6 km/h | 0 | 503 |
| 8 | | Tomasz Lazorko | PSP | SP-0998 | PW-5 | 169.83 km | 02:04:11 | 82.1 km/h | 0 | 498 |
| 9 | | Zdena Zazova | BZZ | OK-3710 | PW-5 | 169.83 km | 02:06:34 | 80.5 km/h | 1 | 481 |
| 10 | | Michal Szalek | 4MS | SP7470 | PW-5 | 169.83 km | 02:10:01 | 78.4 km/h | 0 | 459 |
| 11 | | Mathias Muench | MMU | D-2197 | PW-5 | 169.83 km | 02:10:57 | 77.8 km/h | 0 | 454 |
| 12 | | Lubos Faitz | LFM | OK-4812 | PW-5 | 169.83 km | 02:14:00 | 76 km/h | 0 | 435 |
| 13 | | Michal Brabec | 15 | OK-GENE | PW-5 | 169.83 km | 02:25:40 | 69.9 km/h | 0 | 372 |
| 14 | | Tomasz Zwolinski | TZ2 | SP-0028 | PW-5 | 166.76 km | | | 0 | 255 |
| 15 | | Norbert Karolyi | NK1 | OM-1966 | PW-5 | 99.74 km | | | 0 | 152 |
| 16 | | Helmut Kuenne | F9 | D-2318 | PW-5 | 72.6 km | | | 131 | 0 |

Download IGC files (all pilots in one ZIP file) | Detailed results (mCR, mIAS, Detour%...)
Briefing › Day 8 › 11.03.2017 › 20:00 CET › Saturday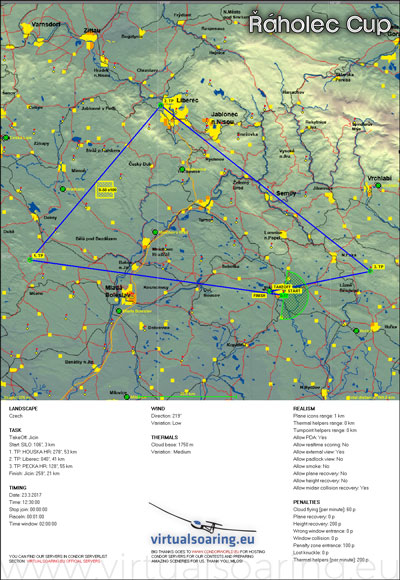 Server:Raholec Cup 2017
Password:
Date:11.03.2017
Time:20:00 CET (19:00 UTC)
Join time:30 min.
---
Landscape:Czech [2.0]
Plane class:World Class
Task type:Racing Task
Race-in time:1 min.
Time window:120 min.
Start time:12:30:00
Condor date:23.03.2017
Start altitude:max. 1700 m QNH
Wind direction:219 °
---
TakeOff:Jicin
Start:SILO
1. TP:HOUSKA HR
2. TP:Liberec
3. TP:PECKA HR
Finish:Jicin
Distance:170 km
---
Cloudflying not allowed! Circeling in the direction of climb is determined by the first glider in thermal. If you have doubts about the circeling direction, ask in the chat. Attention: some penalty zones (CTR/TMA) are active, please watch your PDA all the time! Please FLY SAFE, good luck to all pilots.
---

Download Flightplan (FPL file)
---